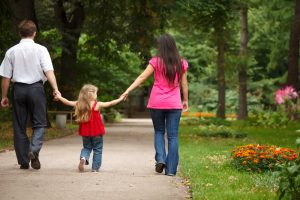 For some time now, I've been using this blog as an opportunity to share valuable information about family law, child custody, and divorce with people who need guidance. With many years of experience working as a child support attorney and divorce lawyer in New York, I've answered a lot of questions in my time.
The blogs and articles here and on my website cover some of the complex topics that can arise during a divorce or when parents split in more detail, while these bullet-point guides take a more compact approach. Today, in the third issue of the child support guide, we'll be looking at family law in New York, the Uniform Interstate guidelines, and the decisions that couples must make about child support.
Child Support Cases in New York
Nassau county and each county on Long Island and New York tend to have their own unique nuances to consider when it comes to practicing family law. While the fundamental laws remain the same throughout the state, there are different rules and processes to consider based on the magistrate, referee or judge in question, and the court room. I've seen a lot of geographic differences over the years, though I do spend most of my time in the Suffolk, Queens and Nassau County Family Courts and Supreme courts today.
The Uniform Interstate Family Support act is an act that appears in some measure within every State across America. The version of this law that's applicable to the New York couples that I work with is the Family Court Act Article 5-B (New York). This act became crucial when parents and children started having multiple connections to different states.
UIFSA for New York and other states helps to determine which states have the power to modify or initiate family support orders. Since child support guidelines vary from state to state, it's important to define which state law is being applied. In New York, for instance, people are asked to support children until they reach the age of 21 or become emancipated, but this age may be lower in other states.
If proceedings are taking place simultaneously in different states, the Act assists in figuring out which state should be given jurisdiction. If New York assigns an order under New York family law rules, they will have continued jurisdiction over the order, if one party or the child still lives in this state, or consent hasn't been given to switch jurisdictions.
Orders coming from another state can be register within New York to be enforced here. An order registered in this state should remain enforceable, but not modified here, unless the issuing state fails to continue to have jurisdiction.
UIFSA cases may be started in the New York Court and ask a court of another state to issue support orders for someone who lives in that state, if no order is in effect already. For out of County or out of state residents, the out of jurisdiction party will be able to file a request to appear in the case via video call, or phone. At the time of this blog entry video or phone appearances are happening even for local people due to the pandemic.
What are the Decisions to be Made in New York Child Support?
In New York, child support lawyers , support magistrates and judges use a formula built on the Child Support Standards Act to determine what the presumptive amount should be under a New York Child Support order. The Act is available within both Domestic Relations laws, and the New York Family Court Act, and it provides guidance on the amount a parent that does not primary residential custody should pay for child support. The policy for this statute was created to ease the burden and disparity, from court room to court room of determining what amount of child support should be paid.
Though the courts will use the guidelines included in Child Support law to determine the basic amount of money to be paid to a custodial parent, there are various additional factors to consider. The guidelines are based on the adjusted gross income for child support purposes. When considering the child support adjusted gross income, the courts will often look at things like child support for other children, local taxes (such as for New York City or Yonkers), maintenance and other factors. The earning potential of the parent, extraordinary costs of exercising parenting time, and the health or age or the parents may also be taken into account when considering deviations from the guidelines, which are possible.
There are various methods available to explore the opportunities for child support amounts. In negotiations and mediations, I often use a variety of techniques. Not everyone will want to use the guidelines for child support, although the obligations must be spelled out in an order or stipulation. An alternative option could be to simply divide the expenses that are linked to raising the child into A/B expenses.
When using the A/B expenses strategy, an idea could be that A expenses are focused on recurring and regular costs, while the B expenses address non-recurring costs. Using this method, the non-custodial parent will pay a set amount to contribute to both A and B expenses.
Parties will also need to consider medical costs, as an add on to the basic support amount, and how this effects child support requirements. New York parents will need to think about things like insurance, dental costs, glasses, and prescriptions. Decisions may need to be made about who should pay for elective procedures, like getting braces that might not be medically required but rather are for cosmetic purposes.
If you have any questions about the topics covered in this article, you can find further in-depth information on the various blogs and on my website. If you feel that you need to discuss your case in depth personally, you can contact my office to schedule an initial consultation (up to the first thirty minutes are free). This appointment can take place over the phone, video call, or you can schedule a visit to my office in person. Couples considering mediation are asked to attend the consultation together.