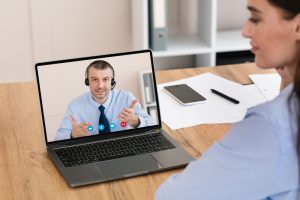 Divorce is never a simple process, no matter how amicable you and your partner's decision to end a marriage might be. It's crucial to ensure you have the right guidance and support during this journey, which is where a divorce mediator that services Queens County residents steps in.
From my office in Nassau County, I strive to offer both a personalized and professional level of service to every client. Here are some of the reasons you may consider working with my office when navigating your Queens County divorce mediation.
Flexible Mediation Options
In today's world, flexibility is crucial. While I continue to offer in-person mediation sessions from a comfortable location in Jericho, New York, I also provide virtual mediation options, usually by Zoom, for those who want to avoid a commute, or have complex schedules to navigate.
We cater to the needs of people from around the region, whether you're located in Queens County, New York City, Nassau County, and Suffolk County. If you prefer to access mediation using online tools, like Zoom, we can accommodate your needs thus making services available for people all around New York State.  We can mediate by Zoom and e-file documents with the court. Alternatively, you can choose to book a session within our convenient conference room at any time that suits you.
Queens County
Queens, or Queens County New York, is one of the most vibrant and unique environments in the United States. The largest New York City borough in the region, Queens is a cultural melting pot, filled with families and couples from a variety of different backgrounds.
As the fourth-most populous city in the United States, Queens is brimming with life, with more than 2.4 million residents. As a resident of Suffolk County and an office in Nassau County, I've spent many years interacting with couples and individuals from Queens. There are many unique intricacies and nuances this landscape has to offer. I'm proud to say I have a decades-long connection with this wonderful borough.  Now we continue to offer in person mediation and Divorce Mediation by Zoom for Queens couples.
Understanding of the Queens County Courts
From the Supreme Court, to the Queens County Family Courts, the court system in Queens County plays a crucial role in the life of its residents. The Supreme Court, situated on Sutphin Boulevard, handles matrimonial and and other cases, including divorces. The Family Court, located in Jamaica Avenue, deals with child custody, family offense proceedings (order of protection cases for family), and child support cases among other things.
Throughout a decades-long tenure in the legal landscape, I have developed an understanding of these courts, their proceedings, and the unique challenges couples face when dealing with their cases. My familiarity with this landscape means I can provide guidance and direction to all Queens County residents seeking divorce mediation.
Extensive Experience in Family Law and Mediation
My journey into the legal landscape began in 1999, when I was first admitted to the State Bar of New York. Since then, I have honed my focus on family law cases, earning experience through countless cases.
Over the years, I have helped clients from various backgrounds, throughout Queens County and beyond, in their quest to address divorce, child custody, family offense, and child support cases, among others. For more than a decade, I have been focused on building my own mediation practice, whilst continuing to offer legal counsel for matrimonial and family law cases.
I also have a deep knowledge of the mediation landscape. Though I have worked in both the litigation and mediation environments, and still do, I am a strong advocate for the power of mediation. I believe this approach offers families a cost-effective, timely, and amicable approach to resolution.
Comprehensive Mediation Support
When you work with me as your family law or divorce mediator you get a comprehensive service, covering everything from initial discussions and negotiations, to final agreements. Our services cater to the full divorce process.
In some cases, this may even mean supporting people that have tried litigation and now want to give mediation a try.  I often find once most couples begin the mediation process, they're able to complete the journey successfully with our guidance. I am proud of our track record in resolving issues through mediation.
Overcoming Disputes
In challenging situations, my experience in litigation can be useful for the people I work with, guiding discussions through productive avenues. I ensure both sides have an opportunity to say their piece and explore unique solutions.
We consistently tailor our approach to mediation to the needs of each couple, using a variety of methods ranging from interest-based negotiation (or principled negotiation), to facilitative mediation and evaluative mediation:
Interest-based negotiation: This approach looks at the needs and concerns of parties involved, allowing both parties to collaboratively identify their needs and work towards mutually beneficial solutions, leading to more sustainable agreements.
Facilitative mediation: My role as a mediator in this method is to ensure effective communication between both parties. I might ask open-ended questions, while ensuring both parties have an opportunity to be heard, leading to lasting resolutions.
Evaluative mediation: With this approach, I play a more directive role, looking at the weaknesses and strengths in each party's case. I can point out the realities in each side's position, helping them to choose a settlement that best suits their needs if the case goes to court.
Each case is different and a blend or variety of approaches might be utilized as the situation seems to dictate.
Finding your Queens County Divorce Mediator
Selecting a reliable, trustworthy, and knowledgeable divorce mediator for Queens County residents your is important. Parties want to ensure that they not only have the guidance needed but you also feel comfortable interacting with your mediator as they help you navigate the divorce process.
For residents of Queens County, my office provides a unique blend of legal understanding, customer support, and being close by. When you're ready to begin your mediation journey, we can work with you every step of the way.
If you're interested in exploring the options available for divorce mediation in Queens County, you can schedule a time for an initial consultation for the couple together by contacting our office with our contact form or calling. We look forward to hearing from you.