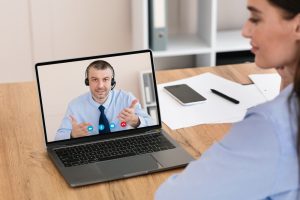 Ending a marriage is never easy. It's not just the emotional turmoil that makes the process difficult to manage. You also have to handle everything from negotiating outcomes with your soon-to-be-ex partner, to presenting agreements and requests to the courts if litigation is the chosen process.
As a family law and matrimonial attorney, I have been through the litigation process many times and still offer residents of Brookyln (Kings County) the guidance and support they need to navigate the litigation process if they choose to take their case to court. However, I often find that divorce mediation offers a less stressful, and more streamlined approach to dispute resolution for many New York-based couples.  Nowadays we are doing divorce mediation by Zoom or in person making our services convenient for people wherever they are situated.  There is no longer the need to travel to see this divorce mediator.
For years now, I've offered in person or virtual divorce mediation services to couples throughout the many regions of New York and Long Island, serving countless couples from the Brooklyn region. With my help, these couples can often resolve divorce disputes ranging from equitable distribution decisions, from child support issues, in a comfortable, objective, and open environment.
As a resident of Suffolk County, Long Island myself, with an office situated in the Jericho, Nassau County region, I can offer a unique blend of local knowledge and insight to residents of Brooklyn in search of divorce mediation services. Here are some of the reasons why my clients choose to work with me.
Navigating Divorce Mediation Services in Brooklyn
Located on the western edge of Long Island, Brooklyn (co-existing with Kings County) is a unique and eclectic borough in New York City. It's the second most densely populated city in the United States, supporting more than 2.7 million residents (as of the 2020 Census).
Sharing a border with the borough of Queens, and connecting to Staten Island via the Verrazzano-Narrows bridge, Brooklyn is a place of incredible culture, attracting families, couples, and individuals from all over the world. During my time as a New York family law attorney and mediator, I've had the opportunity to work with countless couples from the Brooklyn region.
I've delivered support directly from my office in Jericho County, both through in-person and virtual mediation sessions, and even helped clients navigate the various courts of the Brooklyn region. At the Supreme Courthouse, located in Adams Street, I've assisted clients with various matrimonial and divorce cases. In the Family Court of New York, I've represented the interests of various couples in cases related to child custody and child support, orders of protection, and more.
My experience with the various boroughs of New York City, including Brooklyn, and the courts of the region means I can offer unique insight and guidance to the people I work with. I share my experiences in the courts, and explain the processes used by the New York legal system with divorcing couples, at times, when working with mediating couples to try to break through impasses in their divorce mediation.  I love the advent of Zoom and other virtual platforms for working with clients now.  For me this really started during the pandemic and has flourished into a lasting way to work with client and couples as a divorce mediator.
Advocating for Brooklyn Divorce Mediation
Not too long after I was first admitted to the State Bar of New York in 1999, after working for a few different firms in my first five years of legal experience, I joined the Suffolk County Assigned Panel. It was this work that ignited my passion for supporting clients with the complexities of family law and led me to develop my own private matrimonial and family law practice.
After establishing my own divorce family law practice in Nassau County, close to my home in Suffolk County, I began branching out into new forms of dispute resolution, learning from experts to hone my skills as a mediator. I discovered that mediation could be a powerful and reliable method of alternative dispute resolution for many New York residents.  I opened my Nassau County office in 2008 and in 2012 I became a divorce mediator in addition to continuing to be a litigator.
It offered couple a way to avoid the complexities of standard litigation cases, preserve amicable relationships with previous partners, and even save time on lengthy divorce processes. This encouraged me to begin offering mediation services to those willing to try this more amicable path.
Since then, my experience in the mediation world has only strengthened my belief that this system offers incredible value and benefits to the people I work with. This is why I'm dedicated to ensuring every resident of New York and Long Island, from Brooklyn to Manhattan, can access the divorce mediation services they need with my help, if the couple chooses my office to help them.
A Flexible and Comprehensive Mediation Service
As the world has evolved in recent years, I've recognized a growing need among my clients for more flexible mediation solutions. Although I continue to offer in-person sessions via my office in Jericho County, I also ensure clients can avoid the commute to my office, and manage their mediation process from the comfort of their own home, with virtual sessions.
Hosted over easy-to-use channels like Zoom, these virtual mediation sessions give clients the freedom to arrange their divorce process around their schedule, and mitigate common travel issues. I can even offer clients the option to combine in-person and virtual sessions throughout their journey.
My law and mediation office promises a comprehensive approach to the mediation process, supporting clients from the initial discussion stages, through to drafting final agreements. What's more, I work with clients using a variety of methods to facilitate seamless negotiation.
For instance, I can use facilitative mediation processes to navigate clients towards longer-lasting resolutions, by paving the way for open and productive communication, Using open-ended questions, I ensure both parties have a chance to make their case heard.
With evaluative mediation, I draw on my experience in the family law landscape, to help clients understand the weaknesses and strengths their cases might have in the eyes of the New York and Brooklyn courts. This helps to drive more effective resolution strategies and mitigate common problems when presenting agreements to the courts.
I can also leverage interest-based negotiation tactics, to ensure both parties can clearly identify their requirements, needs, and priorities throughout the mediation process. This can open the door to more effective discussions, and productive conversations. In many cases, all of these different methods are combined in different ways to suit the needs of each couple.
The truth is at this time I am not married, so to speak, to any one divorce mediation process.  I might employ a variety or combination of methods.  Each family and couple is unique and we go with what is working to gain resolution.
A Committed Brooklyn Divorce Mediator
My knowledge of New York, the court, mediation, and Brooklyn allows me to offer a unique blend of personalized, professional, and local mediation services to residents of this incredible borough. I believe that with the right guidance, any couple can unlock the power of mediation, and start their new lives on the right path.
No matter your situation, or where you live in New York, Brooklyn (or Kings County) my office can work with you to navigate the complexities of divorce. If you feel that a divorce mediation process might be suitable for you and your partner, reach out to my office today.
You can contact my office via the online form on this website, or over the phone, to schedule an initial consultation for both you and your soon-to-be ex-partner.