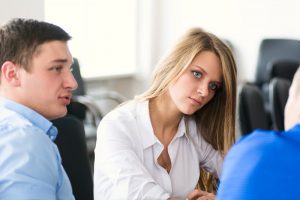 Divorce mediation is one of the most popular forms of alternative dispute resolution. For couples who would rather avoid the stress associated with litigation, mediation ensures a simpler strategy based on mutual negotiation with the support of an objective third-party. As a trained mediator, I'm committed to providing that for my couples in divorce mediation for Nassau County, Suffolk County, Long Island and Queens.  I want everyone to feel as comfortable as possible in their mediation sessions.
Most of the time, this means meeting with both spouses simultaneously for a joint initial consultation session, where we discuss the nature of their case, and what kind of process might follow. However, there is an alternative option recommended by some practitioners, which can work for certain parties. Preliminary planning sessions allow both the mediator and each spouse to meet for private meetings, after the free initial consultation, but before the full mediation experience begins. These one-on-one sessions will enable the mediator to create a rapport with each client individually.
Through preliminary planning sessions, I could help you to explore and discuss any issues that you might have with your mediation before we start the negotiation. Although these sessions mean that you'll need to engage in more time addressing your issues before mediation begins, they also can allow the process to run more smoothly. In some instances, preliminary planning means that mediation doesn't take as long to complete overall.
Maintaining the Benefits of Mediation
It can be difficult to successfully navigate preliminary planning sessions in some divorce mediation cases. After all, it's important to make sure that both clients don't feel as though the other has received any unfair advice or guidance from the divorce mediator. The most common mediation format involves beginning with both parties meeting with a mediator together. This is the kind of service that I offer to my mediation clients with a free initial appointment of 30 minutes. Because the initial session is for both clients, neither one feels as though they're getting special treatment.
Joint consultation sessions mean that both parties feel like a full part of the mediation process. This reinforces the trust that there will be no hidden agendas or secrets so that the parties can negotiate more comfortably together. However, in some circumstances, I may be able to offer preliminary planning sessions to individual clients after the initial consultation, if both parties feel comfortable with the process.
Some experts, including Golann, the author of Sharing a Mediator's Power, believe that it's important to take a preliminary planning approach with mediation. During these sessions, mediators can counsel clients on how they can approach the mediation process. They can discuss things like bargaining, and collaboration during a mediation conversation. Usually, private sessions can last one hour to up to two and a half hours. Within this time, clients can talk about anything from the behavior and attitude of the other spouse, to their concerns about financial, parenting or emotional issues arising during mediation.
The Benefits of Preliminary Planning Sessions
For many couples, preliminary planning sessions are very useful. They're an opportunity to access information and guidance from a trained mediator such as myself and develop greater confidence in time for the mediation session. A planning session can also give clients time to think about the goals that they want to achieve during mediation, and how they can prepare themselves to reach the best possible results.
Because the mediator will also have an opportunity to learn more about each of the parties and the situation that surrounds their divorce, they may also be able to provide a more bespoke experience. For instance, the mediator can begin the first session with pointing out how the parties share similar values and expectations. The private sessions can also be helpful when reinforcing basic skills for negotiation in both parties so that they can argue their side effectively. What's more, private sessions also give clients a chance to determine how comfortable they really feel with their chosen mediator.
If parties continue to need additional support throughout the remainder of the mediation process, then this is where a review attorney steps in to act in support of each spouse. Although a mediator can engage in preliminary planning sessions, they're not there to give advice to each spouse, or tell them how to beat the other in the pursuit of their best interests. Even in cases with individual planning sessions, both spouses need to know that they're getting the same objective experience from their mediator, or the entire experience suffers.  I will be offering mediation with preliminary planning sessions as another option in the mediation process for those couples that choose to do so.  Of course, I will continue to offer the more traditional mediation process which involves couples meeting with me together.
I will be breaking down different aspects of mediation with preliminary planning sessions in future blogs.  To find out more about mediation, or using me as your review attorney, reach out to our law and mediation office today. Get in touch today at (516) 333-6555 or feel free to use our contact form.