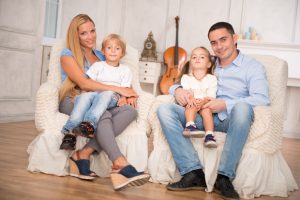 Discussions surrounding paternity and equitable estoppel in the courts of New York can be challenging concepts to deal with for parents or alleged fathers. It's always essential, in any case, for the courts to put the best interests of the child first. However, for parents, it can be difficult to determine what kind of results this may lead to.
Sometimes, testing the genetics of a parent can be an important step in ensuring the right decisions are being made on behalf of that child. However, there are exceptions in certain situations. As a family law attorney and divorce lawyer, I do my best to keep my clients, any anyone in search of information on the subject as informed as possible.
I've blogged about this before but it is worth analyzing further as from paternity a myriad of possibilities arise such as:  support; custody; parenting time; family relationships; inheritance among others.  Here's a guide to the basics of paternity and equitable estoppel.
In New York, the Family Court Act § 418(a) highlights that in cases where paternity is under question, the courts may order a genetic marker test. However, if such a test would go against the best interests of the child, an alternative scenario may be considered. Equitable estoppel prevents a person from asserting a specific right when such a right would lead to prejudice or other problematic outcomes. This doctrine may be used in various situations and paternity lawyers are advised to get familiary with the legal principles.
Situations Calling for Equitable Estoppel
In some cases, a lawyer such as myself may claim that equitable estoppel exists or does not exist which can be used to prevent a DNA test to find out the true biology of a child.  Without a declaration of paternity (if paternity is not admitted) child support cannot be ordered.  Equitable Estoppel therefore may prevent a person from being able to avoid support in a case wherein he may claim he is not the biological father of a child. For instance, when a man claiming he is not the biological father of a child has acted as the child's father in the past, developing a significant father-child relationship, he could be estopped from denying his paternity, and further required to pay child support.
As always, the case in an analysis of equitable estoppel, the issue will typically turn to a consideration of the best interests of the child. The law states children should feel secure in knowing who their parents are. If a father has held himself to be the father of a child, that child should not be placed in a situation wherein they may experience emotional trauma by suddenly being informed their father figure is not their real father.
Equitable estoppel may also be implemented to prevent a biological father from asserting rights implemented by paternity. For instance, a man claiming to be the biological father of a child may be prevented from claiming paternity after failing to develop a strong parent and child relationship with the dependent themselves and letting someone else develop one themselves.
The man claiming to be the biological father of a child in the case of Matter of Bernard S. v Vanessa A.F., 160 A.D.3d 750, 71 N.Y.S.3d 369, 2018 N.Y. App. Div. LEXIS 2447, 2018 NY Slip Op 02475, 2018 WL 1734600 (2nd Dept. 2018) initiated a paternity proceeding followed by custody and visitation proceedings when the child turned eight years old. The father, in this case, was aware of the mother having given birth to the child 8 years earlier, and that the child was being raised by another man. In this case, the father was estopped from asserting a claim of paternity.
Other Circumstances Allowing For Equitable Estoppel
Equitable estoppel, as I inform my paternity and child custody clients, may also be implemented defensively by a purported father to prevent the mother from asserting biological paternity wherein a test of genetics would go against the best interests of the child. In a paternity case with child support proceedings equitable estoppel may be used as a defense when another father figure is already present in that child's life.
The standard for deciding when not to order genetic marker tests on the basis of equitable estoppel can also be complex. As mentioned above, the standard will consider the best interests of the child, and whether equitable estoppel is being used offensively to enforce rights, or defensively, to prevent certain rights from being leveraged.
The party raising the issue of equitable estoppel will have the initial burden of making prima facie showing highlighting detriment, reliance, and representation. The burden following this will shift to the non-moving party, who will need to show why equitable estoppel shouldn't be applied to the case. In most circumstances, this means highlighting genetic marker testing is in the best interests of the child in the case.
In one case, the family court of New York County did not implement equitable estoppel for precluding genetic marker testing when it found it was in the best interests of the child to determine who the biological father in the case was with certainty. The child was around 13 years old at the time, and it was the preference of the child not to implement equitable estoppel. The child was 13 years old and this was her preference. Additionally, the child already had a relationship with the biological father, which was based on the understanding that he could be her biological father. Finally, the child had been living in foster care for the past 5 years and the mother's husband was now living out of state with limited in person contact. Matter of Joseph S. v. Crystal B., 2021 N.Y. Misc. LEXIS 4917, 2021 NY Slip Op 50870(U), 73 Misc. 3d 1201(A), 152 N.Y.S.3d 288, 2021 WL 4260235 (NY FC, 2021).
In another case Matter of Emily H. v. Gregory O., 58 Misc. 3d 971, 68 N.Y.S.3d 302, 2017 N.Y. Misc. LEXIS 5284, 2017 NY Slip Op 27442, 2017 WL 7309953 the court ordered genetic marker testing as they found it was in the best interests of the child. At the time of this case, the child was 16, and identified the biological father as his father, and asked for proof to settle this issue. The child did not see his stepfather as a father figure.
In another Erie County Family Court case, the court did not order testing of genetics because the testing was deemed to not be in the best interests of the child. The putative father was a sperm donor, and the child was in the process of being raised by a close-knit family, where the child saw his biological mother, a transgender man, as a father. Matter of J.F. v R.P., 68 Misc. 3d 520, 126 N.Y.S.3d 303, 2020 N.Y. Misc. LEXIS 2686, 2020 NY Slip Op 20135 (Family Court, Erie County, 2020).
If you have any questions about the concept of equitable estoppel and how it may be applied to genetic testing in a paternity, child support or child custody case, you can contact my office to get on our calendar for an initial consultation. The first 30 minutes are free.