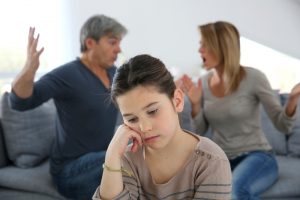 Welcome back to another issue of our Order of Protection series. This series of bullet point guides aims to tell you different tidbits to know about orders of protection, and how they can affect your life when dealing with family as defined in the law which could be blood relatives or people that are or have been involved in intimate relationships. In the past couple bullet guides, we've discussed things like temporary orders of protection, and how important orders of protection can be in custody orders.
Today, we're once again looking at the affects that orders of protection can have on children. In this part of our Order of Protection series, we're specifically addressing testimonies made by children in order of protection or family offense cases.
If you have any questions about the issues addressed here, please don't hesitate to reach out to our office to schedule your initial consultation (up to the first thirty minutes is free) or read through some of our other blogs for additional guidance.
Child Testimony in Order of Protection Cases
Child testimony can be a complicated thing, it's difficult for children to speak up in court cases, for fear, or love for a parent.  In a child custody case the children can talk to the judge outside of the presence of the parties in what is called an in-camera interview. In a family court which addresses whether there should be an order of protection, a child may also be introduced as a witness. In this case, though, the child's testimony must be presented in front of all parties involved.  The court, the attorney for the child, most parents, and lawyers seem to want to avoid this at all costs.  That child be might a necessary witness in the case, though, unfortunately.
Asking a child to testify in front of family can be a complex process, and something the courts generally try to avoid. Whenever possible, it's crucial to reduce any psychological damage to a child. Though a family offense case is a civil proceeding, it's not about crime and punishment but rather whether a family offense has been committed, and if so, what type of order or protection is appropriate.
The US constitution and confrontation clause require the accused individual or respondent in family offense proceedings to have the option to confront witnesses presenting evidence against them. When a case requires a child to be called as a witness, one way of minimizing trauma for the child is to allow attorneys for the parties to be in the chambers with the child and the judge, outside of the courtroom where their parents and others might be.
The attorneys for each party in this case can make objections to testimony and various questions, while the child testifies. It may also be possible for the parties to watch the testimony through a television feed, so that the child doesn't have to be in the same room as the parents.
Before cross-examining the child witness, the attorney for a specific party can speak with his or her client, who may have been listening to, or watching the party via video feed. This can satisfy the confrontation issue mentioned above, while reducing the mental or psychological impact of a child having to testify against their own parents.
Filing a Family Offense Order on Behalf of a Child
In some cases, a family offense connected to a child, needs to be filed on their behalf. The New York court allows an order of protection to be filed on the behalf of a child when a parent has evidence of or suspects an act of neglect or abuse initiated by another member of the family. To act in the best interests of the child, the courts must consider who should be permitted to file an offense petition.
The court recognises that a parent will always have the standing to start an offense proceeding on the behalf of their minor child or children. However, individuals living in the same home, and grandparents may not share these rights.
When dealing with cases that ask the courts to consider the issues of child visitation and custody, which is different than a family offense proceeding, it's important to remember that the court should not make changes to pre-existing orders unless there is substantial evidence of a significant change in circumstances. When an offense petition needs to be made on behalf of a child, the court also needs to be stringent about who it considers to be an appropriate person to launch a complaint on that child's behalf.
The courts will always take the best interests of the child seriously when considering options for how to proceed with an order of protection. If the child is considered to be in danger from a parent or guardian, additional professionals may need to work with the attorney, such as myself, to ensure that the child is properly protected during and after the court case. For instance, child protection services may be asked to investigate.
Usually, a child's parent will be recognized by the law as being able to act on their behalf when asking for an order of protection. However, there are cases when other people may be able to file for an order of protection if they believe that enough evidence is available. There may be an argument that a grandparent should not have standing to petition for an order of protection against custodial parents, as a stay away order would remove the child from the custodial parent. However, this decision might be a matter left to the discretion of the judge.
The argument of who should be allowed to bring a family petition into the court on the behalf of a child or children is a complicated one. I have seen the attorney for the child file a family offense petition on behalf of a child.  If a parent is available to be the petitioner, though, arguably the parents of the child are the best people to act on their children's behalf.
If you have any questions about petitioning for an order of protection on the behalf of a child, or the nature of child testimony in order of protection cases, feel free to contact us to get on our calendar for an initial consultation (up to the first thirty minutes is free). You can discuss your own cases and their unique circumstances with us.