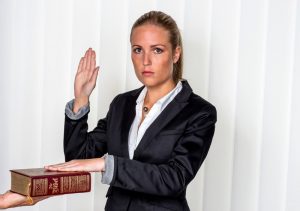 Divorce is a complex process at the best of times. Couples need to come to terms on complicated matters, like spousal support (maintenance), child support, and equitable distribution. In the case of divorce litigation, when the case appears in front of a court for judicial guidance, the toughest part of the divorce can be the trial itself.
Many people prefer to avoid facing the court entirely by choosing methods like mediation for alternative dispute resolution. However, there will be cases when this simply isn't possible.
As a divorce attorney, I have decades of experience helping my clients to try to prepare the perfect presentation (as best we can) for their day at court. Today, in our bullet point series, which summarizes past articles over the years, we'll be looking at divorce trial opening statements, and direct examination.
The Opening Statement in a Divorce Case
Marriage is more than just a statement about your relationship, it's a decision to join your life together with another person. This means interweaving your life with every aspect's of your partners – including their financial situation. When a divorce happens, it can be very difficult to untangle everything, and make sure that both spouses come away feeling secure and in-tact.
Some couples will undoubtedly find themselves in front of the New York Court, while others may be able to resolve their issues in a mediation setting. If your divorce requires litigation, then an opening statement is one of the initial factors you'll need to consider when arranging your strategy with your divorce attorney.
A divorce opening statement is the attorney's chance to introduce the court and the judge to your case. It provides context that you can use to understand the story behind the divorce. Petitioning parties in New York courts provide their opening statements, before the responding party follows with their input.
Opening statements aren't usually supposed to be argumentative. Divorce lawyers in most instances would not want to comment on the credibility of the other side during these statements. Additionally, it is not our duty at this time to use storytelling to attempt to appeal to the court.
Opening statements are successful when the introduce the nature of the case to the people in the court room. This process is all about letting other individuals in the case know what the divorce is all about, and which factors need to be addressed before decisions are made. Because attorneys are explaining the situation, they must remain calm and conversational.
Opening statements are important for giving the courts a full view of what the case entails. However, it's unlikely that a case will be won or lost based on the value of an opening statement alone. This is because opening statements do not contain evidence.
Direct Examination in Divorce Cases
While an opening statement introduces the court to the situation and the details of the divorce in question, a direct examination is where lawyers can begin to get to the heart of the argument for their clients. Direct examinations occur within divorce, and child custody trials, and I have been a part of many of these examinations myself.
In the legal landscape, direct examination refers to circumstances when attorneys ask questions of their own witness to provide context on a situation. After one side questions their witness, the other side's lawyer may provide a cross-examination, wherein lawyers may query of the same witness.
I use direct examination to cover the full details of a story with the witness, covering as much information as possible to support my client. Direct examination may sometimes involve asking clients why they're making specific claims. You may be asked to talk about the facts that you consider to be relevant to the case.
Direct examinations may require attorneys to speak to professionals. In a divorce trial where a client claims that a party is hiding financial resources, for instance, the attorney might use an auditor or an accountant as an expert witness to give more credibility to the claims.
Direct examinations thrive on structure. From the beginning, divorce attorneys need to consider all the aspects of the case, and how they can tie the facts together to highlight a specific outcome. Direct examination may include some storytelling, with a carefully structured beginning, middle, and end, intended to influence the thoughts of the courts.
During a direct examination, questions must remain short and open-ended, so that witnesses can reveal a lot of useful information. Leading questions that attempt to push the witness to give a specific answer are generally not permitted.
It is possible to use certain words to push further exploration into the background of an answer that a person gives to a question. For instance, if someone said that someone appeared intoxicated when they were talking to them, then a lawyer could cover what's meant by this.
Structuring a Case for a Divorce Trial
Structuring a divorce trial in a way that properly highlights the case and the best interests of a client is  a difficult process. Attorneys need to be extremely cautious with the way that they deliver information. Using opening statements and direct examination correctly is just one of the first steps in driving a positive outcome for any party.
If you have any questions about the nature of opening statements and direct examination, and how these things might have an impact on a divorce trial, then feel free to read through our other blogs for extra information. If you want to discuss the nature of your own divorce litigation case, use our online form to get in touch, or call at 516-333-6555. You can get on our calendar for your initial consultation.  Up to the first thirty minutes is free.