If you've been following my blog for a while now, you'll be familiar with the bullet point series I publish from time to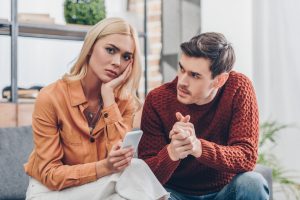 time. These cover everything from child custody lawyer tips, mediation insights, to information about divorce litigation. Today, we're carrying on with the divorce litigation bullet points, providing an insight into issues like serving summons, and deciding whether divorce is the right choice.
I often find that divorce is a complicated and emotional experience for all parties – no matter how their relationship might be coming into an end. Sometimes, understanding the processes that you need to go through when getting divorced can make the experience a little less stressful and the right choices clearer.
Serving Summons in New York Divorce
As I often remind my clients, while there are certain differences to New York divorces compared to cases in other states, these procedures often follow the same basic steps of most lawsuits. A plaintiff spouse who is filing for the divorce needs to either serve a summons and complaint on the other side together or provide the other spouse (the defendant) with a summons with notice that describes the nature of the lawsuit.
Delivering the documents your divorce attorneys prepared required for a divorce is often called "service of process". Like many things in a divorce case, it is important to complete this procedure properly, as failure to do so could lead to a case being delayed or dismissed entirely. Once a defendant has been served with the appropriate documentation, they can file an answer (if a complaint was served with the summons), or if only a summons was served they may appear in the case and demand a complaint, or risk default judgement.
An interesting question arises in New York divorce when a plaintiff provides the other spouse with a summons without notice. This means that a copy of the divorce complaint is not included in the documentation. If a default spouse defaults, then some people may question whether a defaulting spouse has a right to see the complaint.
The laws of New York require plaintiffs to file a summons, along with either a notice or complaint describing the nature of the complaint. If the plaintiff chooses to provide a "summons with notice", they will need to file the complaint at a later time. The timing will depend partly on the way the defendant responds to the lawsuit or if he or she fails to respond.
The New York Domestic Relations Law require summons presented to the defendant to clearly state that they are actions for a divorce if that is the case. The CPLR (Civil Practice Laws and Rules) say that the defendant then has either 20 days to respond when personally served by in hand delivery, or 30 days when served via other means.
Is Divorce Litigation the Right Choice?
Before you can go about presenting your spouse with a summons that would start a lawsuit, you need to decide whether divorce is really the right choice for you. This also means determining how you want to go about your divorce. Litigation is a common option, but it's not the right choice for everyone.
Divorce is a complicated experience. It can be difficult to imagine a life without your spouse after years of being with them. You suddenly have issues like financial stability and managing various challenges on your own to worry about such as child custody and parenting time. However, not all aspects of divorce are negative.
There are situations wherein divorce may be the only way for you to move on with your life in a positive manner. If you're no longer happy in your relationship, divorce gives you a chance to refresh your life and start again. Generally, trying to stay together just because you feel uncomfortable about the prospect of a divorce might not be a good idea. But there are other considerations that people ruminate upon. For example, many people struggle with the questions, Should I stay together for the children?  This is a personal choice and there is not necessarily one right answer.
If you simply can't be happy in a relationship, then divorce could be the thing that finally makes you happier again. The loss of a toxic relationship may still cause you to mourn, however, you may find that you can accomplish more when you are back on your feet and capable of looking for what you want. Again, there is no right answer. Some people might be better off staying together and working on the marriage.  These are personal choices without any one right answer.
Divorce litigation is a common choice for people who need to consider divorce, but it's not the only option. While some people find that divorce litigation is the best way to argue their case and get the best results, others prefer to consider alternatives. Collaborative law or divorce mediation might be an option for you, depending on your circumstances.
Understanding the Pros and Cons of Divorce
Like any major life decision, divorce has its pros and cons to consider. Nobody gets married thinking that their relationship will end. Unfortunately, there's always a chance that your marriage might not go the way that you had hoped. Sometimes, there's no way to fix a relationship. When this happens, you may find that divorce is your best option.
Divorce will always be a difficult experience, and some divorces are more complicated than others. For instance, if you have a lot of shared assets to consider, you have been with your partner for a long time, or there are children to think about, you may find that divorce is tougher for you.
With the right child custody lawyer or divorce attorney to support you, it is possible to come out of your divorce as a stronger and happier person. You can access counselling and other forms of support to get you back on your feet. Many people who do get a divorce find that they are able to fall in love again and rebuild their lives.
Only you can decide when your marriage is over. As I tell my clients, it's up to you to determine whether there is nothing left to be done for your relationship. When this happens, the best thing you can do is access the right support.
If you would like to learn more about any of the issues mentioned above, please read the blogs on this website. You can contact me, Mr. Darren Shapiro, to discuss your divorce litigation case in greater detail. Simply fill out our contact form or call on (516) 333-6555 to schedule your free initial consultation up to a half hour.  Couples interested in using me as their divorce mediator need to schedule their free initial consultation together.